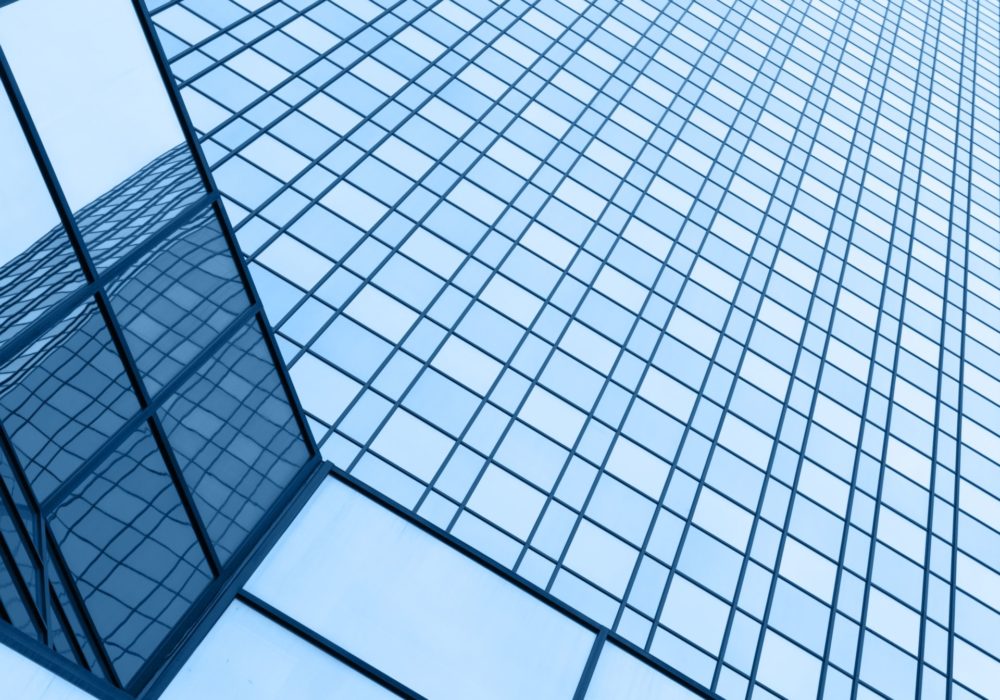 Aluminium and glass facades are the modern type of curtain walls. Without aluminium systems, there would be no grand and fascinating buildings that we can admire in the public space. Façade systems form the glazed facades of various buildings, such as banks, public institutions, hotels, office buildings, sports halls and car showrooms.
Technological progress has utterly changed the role of façades. Modern curtain walls are not only fascinating for the passers-by, but also well-conceived structures in functional and useful terms. Proper thermal insulation, acoustic insulation, sun protection and ventilation are only a part of the tasks fulfilled by modern facades.
With the new technology, modern aluminium and glass facades can fulfil even the boldest architectural designs.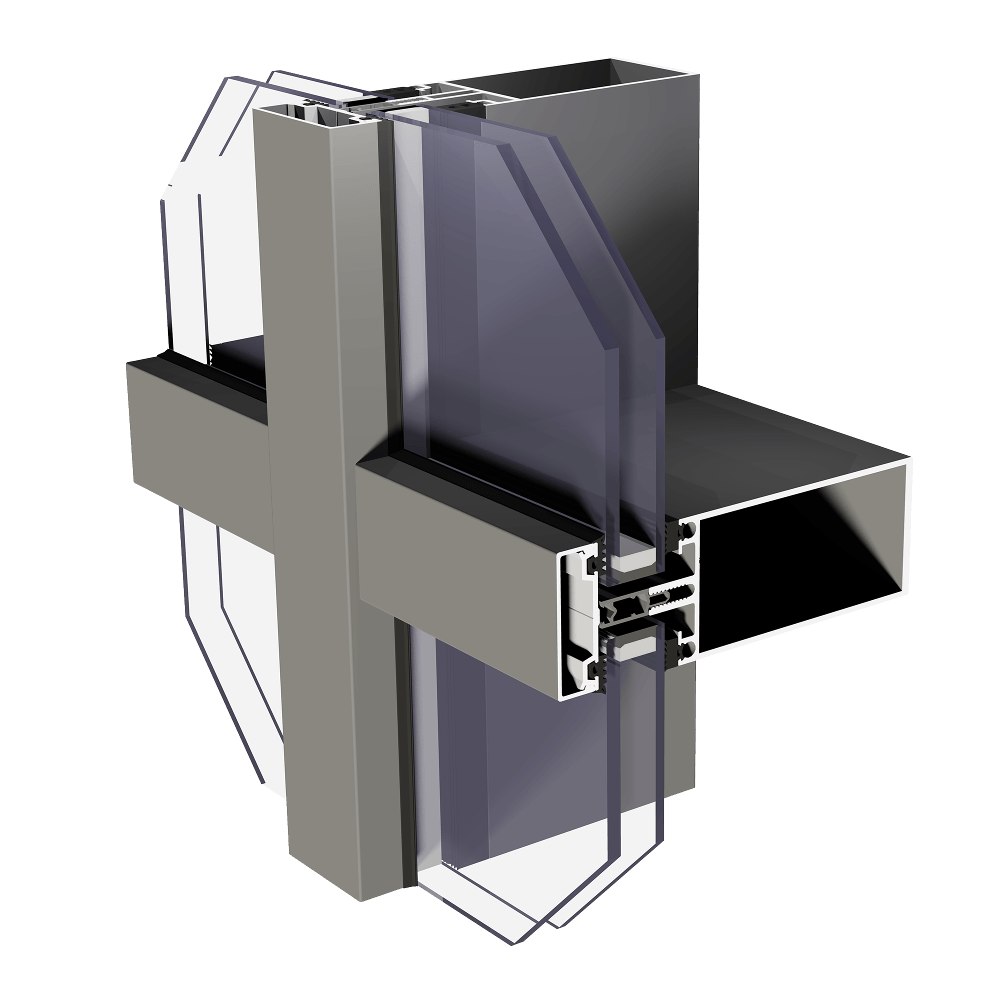 A state-of-the-art system for designing curtain walls with simple and complex shapes. It provides a wide range of options for shaping the enclosure. It is designed to be used wherever an elegant and uniform appearance of the façade shall be maintained.
the system is the basis of façade structures, MC PASSIV E, MC PASSIVE+, MC GLASS, curtain walls with no visible external aluminium components. Only glass infills, separated by silicon joints, are visible
basis of the fire protection solution, MC FIRE
structure with façade opening: parallel retracting windows (MC PW), roof windows (MC RW)
three levels of sealing: external, central and internal, provide high sealing performance
the structure consists of vertical columns and horizontal transoms, connected with stainless steel pins
profile design depth: 55 mm
high bearing capacity of the column-transom connection (2-3 stainless steel connectors per node)
enables using traditional transom supports, as well as attaching them only with screws from the front
wide range of columns and transoms, adjusted to static requirements
facilitated vapour-tight and vapour-permeable apron application along the circumference of the façade, in accordance with the new guidelines for the installation of aluminium structures
optional accessories, e.g. sliding blinds
wide range of colours: RAL colours, structural colours, wood-like, bicolour, anodised finish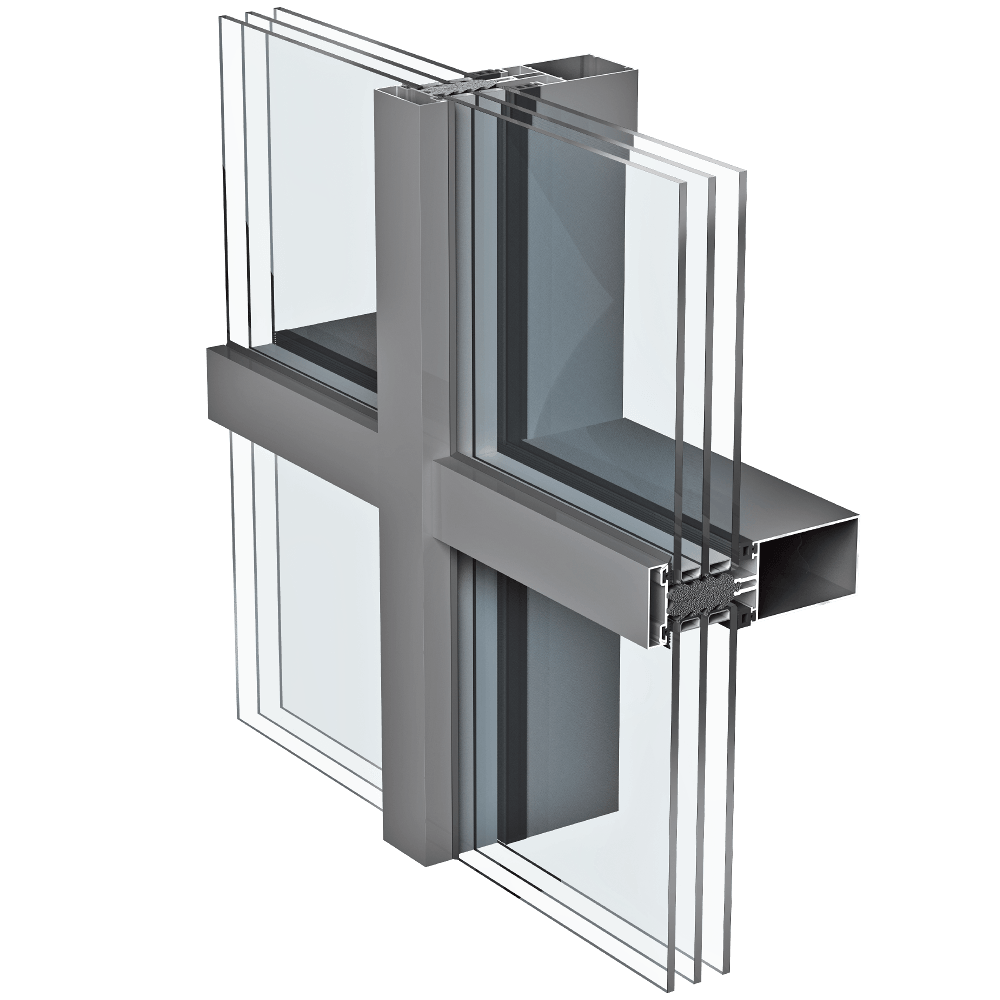 The column and transom façade system, designed to build curtain walls, covers and skylights. The system is distinguished by increased thermal and acoustic insulation performance, water-tightness and resistance to wind load. Many colours.
highest thermal insulation: PF152HI Passive
column and transom width: 52 mm
single and dual chamber units (PF 152)
various glazing systems, structural gluing (PF 152ESG), which gives the effect of a uniform glass panel, with silicon joint strips with the width of 22 mm, and solutions based on the NT 152SG system, glazing with mechanical holders, as well as structural gluing with narrow joining lines (16 mm)
heat transfer coefficient: U from 1.13/Wm2K
enables using the PF 152 WG system, designed for making winter gardens and very complex and sophisticated structures (roof and cover components, structures with an inclination angle of 7-45 degrees)
powerful colour options: full RAL colours, polyester varnishes, wood-like varnishes, anodised finish